I found this really cute craft on
this
blog. It's such a great blog with so many great ideas for little ones.
I didn't take as many pics I would have liked. I learned just how difficult craft time with a toddler can be. Especially when there are scissors and markers involved.
Here is how we started. A large piece of posterboard that she colored on.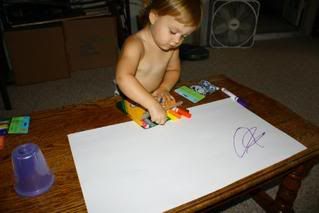 In the meantime, I cut out circles for the different segments of the caterpillars body. I used a sippy cup as my pattern.
This is where I stopped taking pics. I had a circle for each letter of her name. Spelt it out and glued them on. Then I used a bigger circle for the head. Used pipe cleaner to make some cute antennae and added some goggly eyes.
Jacq thought it was really cute but kept trying to tear the eyes off. We hung it up in her room!