This is a great project for busy toddlers. Very easy and little mess involved.
What you need:
-Contact Paper
-Scissors
-Scrap paper, tissue paper, stickers, pom poms, etc
I cut out some pictures from magazines, used some goggly eyes and pieces of yarn.
-Masking tape
First cut up tissue paper, wrapping paper, magazines, construction paper, use whatever you have in your craft supplies. I used an empty wipe box to put them in.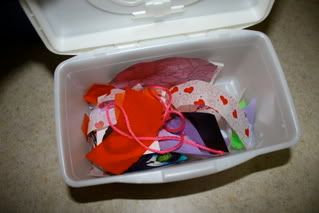 Next, find a low, blank spot of a wall. Cut a piece of contact paper (any size you want), tape it to the wall with the sticky side facing out.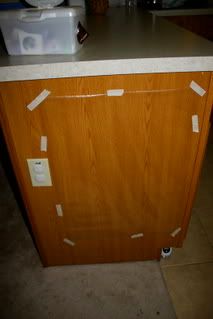 Let your little one explore the fun of 'sticky' and adhesive surfaces. Jacq stuck the papers and other objects all over the place.
She didn't try to peel anything off except for the pom poms. So I don't think I'll use those next time.
Here is what it looked like when she was done. I am actually going to leave this up for a few days and keep the box on the floor so she can add to her masterpiece when she feels like it. When it is done I will add another piece of contact paper over it so I can save it.