I saw this recipe and thought, "huh, why not make one more thing for my kid to create a mess with?" The beauty of this one is that the main ingredient is soap! So really she is making a mess and cleaning it up all at the same time.
What you need:
-1 cup of handsoap for each color you want to make. Clear or white.
-Cornstarch
-Food coloring
- Container for each batch you make. I was puzzled as to what to use. After perusing the aisles at the dollar store, I settled on those squirt bottles you use for condiments. Red for catsup, yellow for mustard and a clear one. That way Jacq could squirt the liquid out and it was already in a storage container to use again.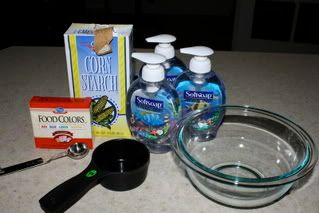 First, get a bowl and add one cup of soap. One softsoap container equals one cup. Add one teaspoon of cornstarch.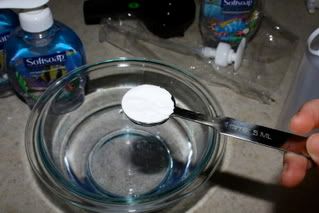 Add a few drops of food color. I added 4 drops per batch.
Mix it all up. I had to work it pretty well to get all the clumps out of the cornstarch.
Then I used a funnel and poured them into the condiment containers. Red in red, yellow in yellow and I did blue in the clear container.
Jacq had a blast with these in the tub. She used some foam brushes and her fingers. There was no staining on the tub or on skin!
Just make sure to give your tub a good rinse after you get your little one out. There was quite a bit of soap reside and could cause your little one to slip the next time they get in the tub.