Today my mom and my step dad came over. My mom use to work with little ones so she had this great craft idea. Jacqueline had a blast and got to spend some quality time with her grandparent's.
What you'll need:
-paper plate
-blue paint
-paintbrush
-aquarium rocks
-glue
-goldfish (i used the colored ones)
First, paint your paper plate blue to act as water.
Next cover the bottom 1/4 or so of the plate with glue.
Start adding the rocks. I added a few round glass stone thingys that I had.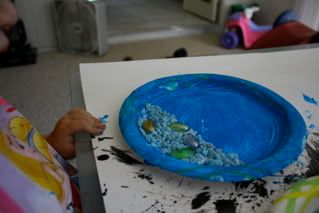 Then put a few drops of glue around the rest of the plate and let your little one stick the goldfish on.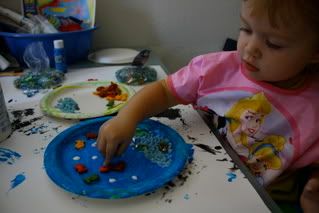 The finished product.
It took a few hours to dry completely. My mom recommended that we punch a hole on the top and use some string to hang it from the ceiling. Thanks mom, we had a great time today!